Sharon Tate Biography

Jay Sebring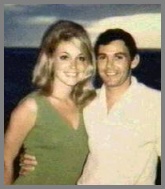 Meanwhile, Sharon had met and begun dating Hollywood hair stylist, Jay Sebring, and was not terribly keen on leaving him to film Eye of the Devil in France. Sharon would sit in Jay's private work area while he worked on some of his biggest clients. Dominick Dunne remembers meeting Sharon there and that Sharon was "simply one of the most beautiful and nicest girls" he ever met. Sharon was on the verge of the career she had come to Hollywood to seek and as much as she would miss Jay she wanted to get her career underway, so she left for Europe and joined David Niven and Kim Novak (who due to a horseback riding accident on the set, would later be replaced by Deborah Kerr) on the set. Her character in the movie was Odile, a strange country girl with hypnotic powers. Though she did not have many lines her part was integral to the movie. The movie was beautifully shot and Sharon rivals the scenery for sheer beauty. Of the location Sharon would say "it put me in a great mood for my part" calling the area "mythical". The director Jay Lee Thomas, was very impressed with Sharon's performance, admitting that at first he had doubts if she could pull off such an important role, due to her inexperience. Those doubts were quickly laid to rest once he saw Sharon's performance. Ransohoff was pleased with Sharon's progress and started at once to look for new parts for her.

Roman

In 1966 Martin Ransohoff was producing a movie to be directed by acclaimed Polish director Roman Polanski. It was to be a spoof of Vampire films. Ransohoff suggested Sharon for the lead female role.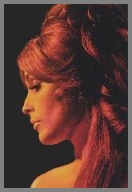 Roman wanted Jill St. John but agreed to meet with Sharon. At a dinner party they discussed the role. Roman thought Sharon was beautiful but not right for the part. Upon the insistence of Ransohoff he agreed to do a screen test with her. Sharon, wearing a red wig, came in and tested for Polanski. In Sharon's performance Roman began to see the character of the girl, Sarah, that charms both the vampire who abducts her and takes her to his castle, and the professors' assistant- who would be played by Roman. Roman's character is determined to get Sharon's character back from the vampire at any cost.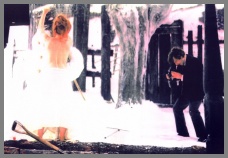 On the set of the movie, which would be alternately titled The Fearless Vampire Killers and Pardon me but your teeth are in my neck, Polanski strove for perfection. Sharon eager to please worked hard for Roman. In between takes Sharon posed for publicity stills. Scavullo photographed Sharon lying in the snow in her costume and red wig, hands behind head, eyes closed, for a Christmas issue of Vogue. Sharon also agreed to do a semi nude layout for Playboy to promote the film. Roman took the photos himself, which were published in the March 1967 issue of Playboy. The photographs were in character as Sarah.

As filming continued Sharon and Roman became closer. What had started out as an adversarial relationship changed into a romance. Sharon was torn but eventually decided she had to be honest with Jay and let him go. She and Jay discussed the issue and split amicably. However, Jay did not want to let Sharon go without meeting Roman and making sure that she was doing the right thing. Sharon agreed to set up the meeting and over dinner Jay and Roman got to know each other. Roman would remember that Jay said "You are all right man. I dig you." It was in this way that Jay would remain a close family friend for years to come.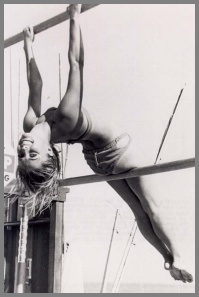 The Year Sharon Tate Happens

Shooting wrapped on The Fearless Vampire Killers and Sharon had to fly back to the United States to film another movie for Ransohoff, a beach comedy staring Tony Curtis and Claudia Cardinale, Don't Make Waves. Sharon's role in this movie was pivotal and gave her an opportunity to show her talent for comedy. Sharon's character, Malibu, is a beautiful, athletic skydiver who bewitches Tony Curtis. Tony eventually wins her from her bodybuilder boyfriend, played by Dave Draper a former Mr.Universe, but then realizes that they are not a good match. The role required Sharon do many of her own stunts and she impressed the directors and cast and crew by being so good at them.

Sharon became the shows center piece for promotion. Countless publicity stills of Sharon in a bikini as Malibu were released. When the film opened there were life sized cardboard stand ups of Sharon as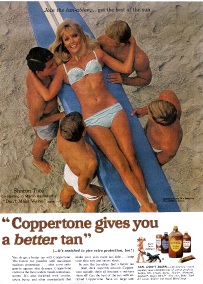 Malibu. She also became the spokeswoman for coppertone suntan lotion, doing a print ad in a bikini lying on a surfboard held by several young men, and a radio ad with Army Archerd. During the filming of Don't Make Waves Tony Curtis would become a close friend of both Roman and Sharon. He would remember Sharon as sweet and caring, helping him with issues in his personal life.

Sharon did not enjoy the filming of Don't Make Waves. She was separated from Roman for long periods of time while he did post production work on The Fearless Vampire Killers and she was not thrilled with the way her career seemed to be going under the guidance of Martin Ransohoff. She began to refer to herself, tongue in cheek, as "Sexy little me." She felt that if she did not get a chance for some better and more substantial roles she would forever be locked in the blonde sex goddess roles like the one of Malibu in Don't Make Waves.

She would tell Roman "You're the better half", speaking of them as a couple in the industry. She felt Hollywood only viewed her as pretty face. She longed to prove herself. Roman for his part said that Sharon was "too nice. She doesn't believe in her beauty. Once when I was very poor in Poland, I had got some beautiful shoes, and I immediately became ashamed of them. All my friends had plain, ordinary shoes, and I was embarrassed to walk in front of them. That's how Sharon feels about her beauty. She's as embarrassed by it."