Some sweet memories shared from...
Sharon's High School Friends




When Sharon and my sister, Katie, were sophomores at Col-Hi, they were elected princesses of Homecoming. Anyway, I've kept all these years the picture of all of them (the queen and princesses) on the front page of our school newspaper, The Sandstorm.
Sharon came over to our house, which was across the street from the high school (swimming pool, actually), on Long Avenue, and I have recollections of her, my sister, and other girls sitting on the lawn talking for a long time.

Sharon was so beautiful, and I remember just staring at her out the window. Being two years younger, I was so impressed at the older girls.

Peggy Sheeran Finch, Class of 63
Columbia High School
(Later renamed Richland High School)


My names is Audrey Eberhardt Mathews. I went to school with Sharon from 7th or 8th grade at Chief Joseph Junior High School through 11th grade at Columbia High School. We were both Army brats although my dad was an NCO and hers was a Captain or Major.
I was not what you would have called a friend of hers, I knew her and she would always speak. She was beautiful even in JR High when the rest of us were gawky.
I remember an event I don't believe I ever told anyone about before. Can't remember the date but I was keeping the nursery in the Officers' Club at Camp Hanford for a reception for someone (my dad was enlisted so I didn't keep up with the affairs of the higher ups); Sharon's parents had made her attend as a mild punishment for something. She had become bored and walked around to the nursery where I was, we sat and talked until her parents came to get her.
I saw in "Valley of The Dolls" and one other movie, I can't even remember the name. I wish I had not lost my 59-60 yearbook, I believe both of our pictures are in it. I have discovered that we shared a birthday and did not even know it. I am also a January 24, 1943, baby.
I will always remember a person who seemed as sweet and kind as she was beautiful. It really hurt to hear of her brutal murder. Sorry to run on so but most people don't believe I went to school with her.

Audrey Eberhardt Mathews
(Happy Birthday to you too, Audrey!)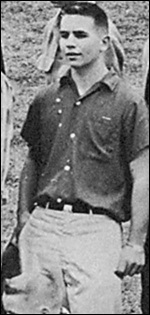 I met Sharon in junior high school. Although I never had a chance to get to know her as well as I wanted because I was too shy, she never hesitated to talk to me or be friends. I was just a really shy "geek" in today's world. She was wonderful in not being afraid to talk to people like me.

In high school, we were in the same typing class, and Biology too I believe. She was alot of fun. I thought at the time she was so lucky to be so beautiful, and to have such a nice personality. Because other great looking women in our school at that time also had nice personalities, I thought they were all that way.

When I attended the University of Washington a few years later, of course I grew up much more. Then I realized even more how special Sharon was, and how lucky I was to have come from Richland.

When she was taken so prematurely, I was "crushed" beyond words. It left a mark on me that remains today. I'll never understand "why". And I pray the responsible people never ever get out. Sharon deserved to live, and although life is not necessarily fair, her death remains totally inexcusable.

None of us who knew her will ever understand why she had to go, but all of us can hopefully contribute something of value to her memory, and maintain her image she so richly deserves. Thank you.
Dr. Tim R. Avedovech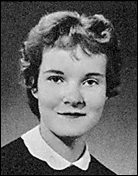 It was September 1955 my eighth grade year at Chief Joseph Junior High School, in Richland, Washington. My parents had moved the family to Richland in 1944 when I was two. After eleven years in Richland I had not known anyone who lived there to not be friendly.
Each day of the beginning of eighth grade was busy running from class to class. Lunch hour always so much fun, not saying classes weren't fun, some were. I always liked socializing in school the most. Within a few days I started noticing a student in the hallway that I hadn't seen before. When I went up to introduce myself, she introduced herself to me as Sharon Tate. She was in the seventh grade, a year behind me. Sharon said, "her dad was in the Army". The family had been transferred from a base in Texas to Richland. As we parted for classes Sharon smiled with what I would come to know as 'Sharon's famous smile'.
Sharon and I seemed to have an instant friendship. We we're always laughing about something. Our talks spun into boys, classes and all the normal things that teenagers talked about. As the next few weeks wore on Sharon got to know more of her classmates, me off with my classmates. From then on I cherished whatever time I had with her. Living across town from her, if I didn't see her at school, I didn't see Sharon much. The students when her name came up always talked about how pretty and fun she was. Everyone liked her. Her sweet smile was what always captivated me as well as her friendliness.
My next memories were when we both we're in High School together. (My being a year ahead) Sharon had endless dates. I was working at Skip's drive-in where she would come in at times with a date. It would always make me smile when the date she was with would order a coke, Sharon would order her usual glass of milk. I probably noticed this because I didn't like milk.
Sharon's parents Mr. and Mrs. Tate as I knew them, were always strict in a good way. They we're always fun to be around. Time with Sharon in High School was usually limited to whatever her schedule was at the time and mine.

We had made plans to go out one night for a couple of hours to talk. I was now driving my families old '49 Plymouth. I picked up Sharon at her parents home in Richland Village. Waving good-bye to her parents we slowly drove off heading for George Washington Way. (I think I had only had my drivers license a few weeks).

Sharon and I were chatting away when a dog ran out in front of the car. We heard him yelping. Being dark we could hardly see the dog. We quickly got out of the car to start looking for the dog. We we're both crying. We just knew the dog had died. We searched the alley way for a while. Neither one of us could stop crying. After about a half hour we gave up, hoping that the dog was alive.

There was a compassion in Sharon about life that I had not ever seen. From there I knew Sharon would always care about life in a passion that many would not ever know. The evening was spoiled but we managed to go on talking about all of the delightful things we liked to talk about. Hoping that the dog had safely found it's way home.
One of my other memories was visiting the Tate's home. Mr. and Mrs. Tate always welcomed everyone. You knew where Sharon got her friendliness when meeting the Tate's. Patti Tate, Sharon's baby sister, was born when I was sixteen.
I couldn't wait to meet Patti, the new addition to the Tate family. Sharon was so proud of her. I made arrangements with Sharon to visit one night. Other students were there when I arrived. Mr. Tate was talking to everyone. Everyone one was captivated by his talking about his travels in life. Debra, Sharon's five year old sister was already asleep. Patti was being held by different ones of the visitors. Delightfully my turn came to hold Patti. Sharon was smiling away.

Soon Mrs. Tate announced that it was time to feed Patti. She invited the girls into her bedroom while she breast fed Patti. Mrs. Tate explained as she took us off to the bedroom that this was 'girls time'. The guys stayed talking with Mr. Tate. Mrs. Tate's motherly ways we're always prevalent. I admired the way Mrs. Tate handled the situation. This also showed me so much why Sharon was the way she was. We all yakked away while she breast fed Patti.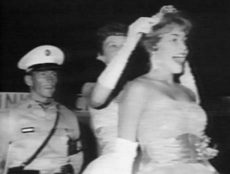 Sharon's popularity had grown leaps and bounds through out her time in Richland. Princess her Sophomore year to being crowned Miss Richland. It was so exciting when she won. Sitting there watching her being crowned was delightful to see the young girl I met so full of joy. Sadly her father was transferred to Italy. The family left not long after her crowning.
Sharon and I did not keep in touch when she left Richland. When I heard from other students she was back in the United States acting in "Beverly Hillbillies", I didn't miss an episode as soon as I knew. Could not believe that her parts we're small. Sharon was so naturally beautiful, that I didn't like seeing her with all the makeup she wore when she was on the "Hillbillies". Then came "Valley of the Dolls". Thankfully she looked more natural I thought. In my heart of heart's I knew Sharon was going to make it as a star.
Tucked away back in my memory is probably many other situations or private things that Sharon and I talked about.
God's miracles come when least expected. Being able to share about Sharon is definitely a joy I am thankful for. What made Sharon was her endless caring! Drawing all to her with her loving nature. Her physical beauty radiated because of her inner beauty. Thankfully to her sister Debra, Robin and Chris the world will always be able to look up on the web to see Sharon's wonderful smile, still being given to anyone who wants it.


Sharon Tate --Always a Star

Slowly walk with Sharon Tate,

The world slows down to see the beauty surrounding you.

If a smile doesn't radiate from your heart,

Look at a picture of Sharon, your heart will smile.

Your dream isn't coming true,

Notice anything can be accomplished when you care as Sharon did.

Friends not in your life,

Sharon radiated from her inner beauty --to teach the world how to have friends.

Memories may fade,

Sharon will always be there to remind you, memories will always be there.

Can't find stardom in your life,

Walk with Sharon she will show you your star qualities.

There is only one star,

Sharon Tate, not ever to be forgotten.

There is a special star up in the sky,

Sharon dancing with a smile!

Looking down to earth, still smiling on all the people she touched.

Continuing to touch the old friends as well as the new friends.

By Patti Jones Ahrens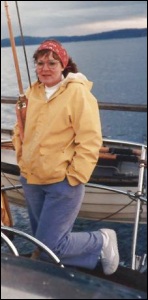 Thankfully I spent time with Sharon at a time of very formative years that will always bring a smile to my heart, as she did for everyone.
Patti Jones Ahrens ('60)
Columbia High School (now known as Richland High) graduate and friend always of Sharon's! Would love to email with anyone who wants to talk about Sharon.






Sharon, I remember you so well when we were in Verona. It was so wonderful knowing such a nice, warm person! I especially remember the prom when you doubled with Donna and Don and your summer job at the kiddie area at Lake Garda.

I followed your career when you were on the Pat Boone special from Venezia and when you were in "Barrabas". I followed you to Hollywood, and got updated information about you from time to time from Donna Brizzolara.

When I heard the news about the horror that found you, I was first speechless, then sat down and cried and cried. I have thought about you for all of these years. When the Verona and Vicenza groups get together, we always remember you--someone has a videotape and we look at your pictures.

Bev Todero and I talk about you when we see each other from time to time. I have grieved over you and for your entire family for so long.

God bless you always--I know you are in His care.
Linda Franke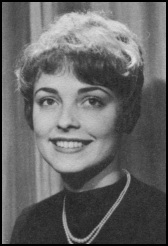 Sharon and I graduated together from VAHS. When I was stationed at the Naval Comm Unit, London, England, I read that Sharon was getting married so after I got off the mid watch I went to stand with the crowd to see if I would be able to see her. She saw me and invited me to attend the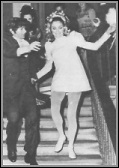 wedding also, which I did. The last time I spoke to her was in June 1969 right after she returned from Paris. All her classmates miss her.

Photo: Sharon's Graduation Photo from VAHS, 1961.


Marie McElligott, Class 1961








Sharon's closest friends here were for the most part in my class, but I went to Carmichael Jr.Hi and she went to Chief Jo Jr. Hi, so I was not real aware of her until high school. And I was not in her close circle as she lived in a different area then I did also. In fact, clear across town from her. I just knew her from school and thought of her as one of the most beautiful persons inside and out as she always had a smile and a cheery hello for anyone and everyone.
That Sharon was beautiful goes without saying. She was tall, slender, loved to dance and beautiful as was I, but she had the courage and the self-confidence to take it places and where she wanted to be and I admired her for that very much!
Debra, that you have lost all of your female members from your family is so sad, but you are a beautiful person also for keeping your beautiful sister memorialized. You are to be commended and your page is wonderful.

When I first got my computer, I went into the websites that were up on Sharon then and copied every picture that was on them and put them into a photo album. It sits in my library with all of my other photo albums. She was/is a treasure and pleasing to look at and I always felt close to her even though I was not in her closest circle.
I was in Florida when the tragedy that ended her life happened and when then news came on and I heard about it, I burst into tears and I could not believe it. I just KNEW they HAD to be talking about a different Sharon Tate. Then they flashed her picture and I knew they weren't wrong. The shock was hard and the tears were bitter! My hubby at the time and his parents could not understand why I was crying so over some Hollywood person!
I told them I knew her, but they did not understand. The mother-in-law, who was a witch (and that is spelled with a capital "B") scoffed at my tears over a tawdry movie star and that is when I turned on them and let them have it. We were never friendly at all after that. And I did not care--at best I could only be civil when they came out here to see us.
Thank you for carrying on Sharon's legacy.
Love,
Judy Willox Hodge ~ Bomber Class of '61 ~ Richland, WA ~




Wow, what memories surface with just a little bit of encouragement. I lived two doors down from the Sheeran's and was between Kate and Peggy ('62) I didn't know Sharon through school (I went to Carmichael) But my parents belonged to the Officer's Club and Sharon and I met there. We were even in a few "style shows" together, she was so graceful. We had a few sleepovers, and then 'boom' her parents were transferred. I had never known anyone who had to move away. I later married a military man and moved oh, so many times, I don't think that a move went by that I didn't think of Sharon, though. The world lost a beautiful, inside as well as out person that horrible day.
Lyndy Wheeler Myers
Class of '62 Bombers


See Remembrances of Sharon by her Hollywood friends



Did you go to High School with Sharon? Please send email to Webmaster-shar@sharontate.net with your memories!