Birthday Gifts:
Page 1, Page 2, Page 3, Page 4, Page 5, Page 6,
Page 7, Page 8, Page 9, Page 10, Page 11








What a mixture of emotions this day brings up.
How we all wish this beautiful, talented, vunerable young
lady was still here to celebrate her 60th with
her Family and friends.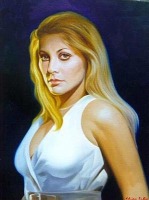 Click to see larger photo
After all these years though it is so heart warming to
see that so many people remember her gentle spirit
that touched us all so briefly.
Thank you to all involved in bringing about this joyous
celebration of her birthday. Especially to Sharon's sister
for sharing such intimate family recollections with us.
They certainly mean a lot to those who only knew her
as a gorgeous image on a distant screen.
A great big Happy Birthday to you Sharon,
you are much loved and greatly missed.
God bless,
Adrian
Sydney Australia








To Sharon, on her 60th...
Today is an especially wonderful time to celebrate your life,
and the joys you have brought so many through
your work and presence.
Happy birthday, beautiful.
With love,
Shera Bonnie
Shelton WA USA


Happy Birthday !
Dan
Chicago IL USA



Dear Sharon,
Happy 60th Birthday !!!
We here on earth miss you, but we know that you're
dazzling them up in heaven....
All The Best....Kelt, a fan
Kelt Smith
Towson MD USA






"Happy Birthday Sharon"
So many people are thinking about you today on
your birthday.Your family, friends, and fans (including me)
have a special place in our hearts for you. Although your not
here to celebrate your birthday, I believe that your spirit is
here in each one of our hearts. May God bless you
even more so on this special day!
thinking of you always...
Bob Sebring
Ca USA








Happy Birthday Sharon.
We all Love You and miss you very, very much.
Always will! I believe you are now one of God's angels.
You were an angel on earth. Love, Keith
Keith
Fort Lauderdale FL USA




Happy Birthday Sharon!
Carmen
Tooele Ut USA








Happy Birthday Sharon!
I wish it could be a happier one with you here.
I know you are here in spirit, and you can see all the
wonderful things your sister has done so you are never forgotten.
Your fans will never forget you either--there's more of us than you
could have ever imagined!
Kathy Murphy
Yorktown VA USA


Please keep up the memory of Sharon.
Anything I can do please e-mail me.
David H. Willett
TN USA


When my mom was in high school her graduation year
1967, her favorite movie was Valley of the Dolls.
12 years ago i saw the movie and just thought Sharon
was so beautiful and had so much talent. I loved the movie
so much and my mom had the vinyl record and i would
sing every song. I still have that record and now the cd.
My mom didn't tell me about this being her
favorite movie until i told her i saw it and loved it so much,
I have been a fan ever since, i am 31. She is deeply missed
by all her fans, friends and her family.
Happy Birthday Sharon you will always be in our hearts.
Andrea
Kenosha State: WI USA


Happy 60th birthday in heaven, Sharon.
You will always be remembered here on earth.
Paul Whiteman
Kennett Square PA USA


Sharon, : )
"You say it's your birthday Birthday?!
It's my birthday too yeah!"
Well on Feb 3rd anyway! lol (another fellow aquarian)
I send the songs to you with all my heart on the gifts page.
I'm actually working on another I started especialy for you last night.
I'll be onstage in Fresno in a couple of hours
and I'll be celebrating for you.
Much love to you on this glorious day!
You're with us. : )
(Singing you a very soulful Happy Birthday!)
All My Love, : )
Michael Nagy (vocalist)
http://www.michaelnagy.pacificsquare.com
Kingsburg Ca USA


I think about you every day, and especially on this day,
the day you were given to us. I only wish that I could convey
my love and admiration for you in person.
Best Wishes to you, SHARON, today and always...
Daniel
Kissimmee FL USA


Blessings to You, Angel Woman.
You were the Most Beautiful Woman on Earth to me when
I was a child, and you still are. Happy Birthday, Sharon.
Love,
Melanie
Brea CA USA


Today we celebrate the memory of
the life of a beautiful woman.
May she and her family know that many of us
remember her as she lived, and that she is a legend
because of her life and her beauty.
Gioconda Alberi
Sherman Oaks CA USA